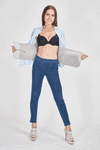 Ministry of Mama Belly Fitt Classic Postpartum Wrap
Made for mothers after giving birth, Belly Fitt takes care of the body from all angles with straps around the body on 4 sides for adjusting firmness. Accelerate recovery of the uterus and relieve back pain. Reduce waist and belly in just a few weeks.
Belly Fitt Classic model is soft and comfortable. Made from a mixture of nylon and spandex (No latex component) woven into a transparent net. Good ventilation, light weight, high flexibility. Bends according to the shape of the wearer closely. Can be put under clothes
SPECIAL FEATURES

The four-sided straps wrap around the body to help you confidently keep your shape.

Helps to reduce the sudden jerking of the stomach while moving, increase comfort and relieve pain from caesarean section.
Well-ventilated, lightweight, highly flexible. Conforms to body shape and can be worn under clothes

Easy to put on, adjust the fit according to your preference.

Tightly woven fabric, soft to the touch, not itchy, easy to wash and dry.
There is a back pocket for putting a hot compress.
SIZING
Measure around the waist through the widest part of the torso (navel area).

Purchasing while 8 months pregnant: Measure actual waist circumference.
Purchasing before delivery: Measure your actual waistline, minus 3-5″.
Purchasing after giving birth: Measure the actual waist circumference.
(Usually, the waist circumference at 8 months pregnancy is the same size as the waist circumference after childbirth.)

When putting it on, the left and right Belly Fitt straps should be slightly overlapped. If the Belly Fitt strap is a little short (1-2 inches), try wearing it while flat on the floor. In this case, you don't need to buy a larger size. If you still feel tight at the start, try wearing the Belly Fitt for a short period of 1-2 hours a day until your shape decreases and you can wear your Belly Fitt comfortably throughout the day.

SIZE
 Waist circumference (CM)
Waist circumference (IN)

S/M 

56-89CM

22-35IN

L/XL

 

86-122CM

34-48IN

WASHING INSTRUCTIONS
Hand wash by gently swirling in water.
Do not wash in the washing machine.
Do not rub, do not use a brush, do not twist dry.
Avoid using fabric softeners or bleach.
Dry in a shaded, well ventilated area not exposed to sunlight.